Victims of bauxite mine in Guinea receive medical care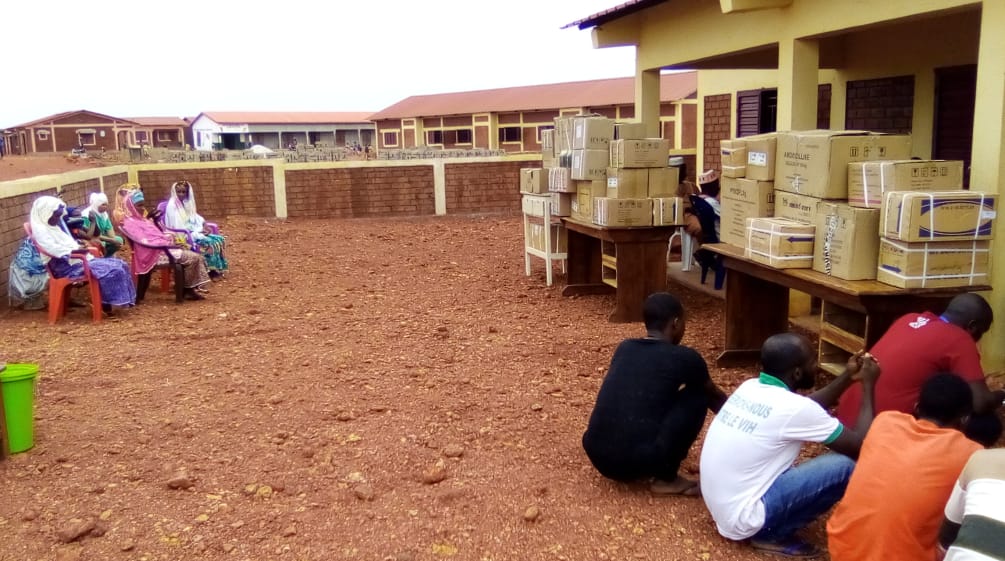 Jun 4, 2021
Eleven days after we delivered our petition, the mining company CBG in Guinea promised medical care to the displaced villagers of Hamdallaye. But this is not enough: The German government must ensure that its state loan guarantees do not underwrite human rights violations.
A tiny step forward in Guinea: The mining company responsible for displacing the villagers of Hamdallaye stocked the modest health center of the new village with medicines on May 26th. A few days later, it sent two doctors to look after the people of New Hamdallaye and neighboring villages.
The old village of Hamdallaye was razed for a bauxite mine in 2020. The people were forcibly relocated in May 2020 in the middle of the pandemic, without a hearing or mediation. The new village was built on a spoil dump of the mine where no farming is possible. Bauxite mining has polluted vital bodies of water or resulted in them drying up. No drinking water was available – only after pressure from NGOs were public water taps installed.
The German government is supporting the expansion of the Sangaredi bauxite mine with a USD 293 million loan guarantee, despite being aware of the grave ecological and social risks of the project. In doing so, it is knowingly accepting land grabbing, environmental destruction and human rights violations to secure the supply of raw materials to German industry. About half of the bauxite that Germany imports for the production of aluminum comes from the Sangaredi mine; 93% of all of the bauxite used in Germany comes from Guinea. 
On May 17, 2021, Rainforest Rescue, FIAN and Powershift delivered the petition NO to loan guarantees for bauxite mines in Guinea to representatives of the Ministry of Economic Affairs in Berlin. The sudden appearance of medicines only a few days later indicates that the mining company is aware of the criticism of its human rights violations and environmental destruction.
While the delivery is providing some relief to the displaced villagers, it is only a drop in the ocean. Further steps must follow. Better medical care is not sufficient redress for displacement and does not cure the causes of their misery. At a minimum, the company must improve the disastrous living conditions it has caused, compensate the dispossessed, provide them with arable land and guarantee them access to roads and the water supply. The reclamation of the open-pit mine would be a key step in this regard.
We continue to call on the German government to exclude companies that violate human rights from state funding and to ensure that state loan guarantees do not lead to human rights violations.