NO to loan guarantees for bauxite mines in Guinea!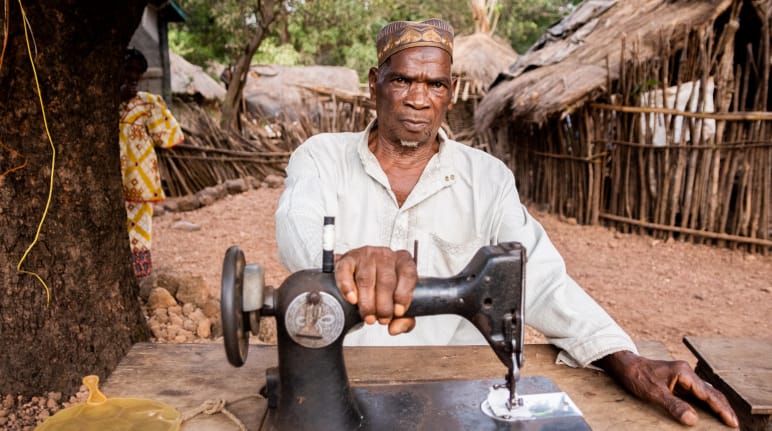 110,480 supporters
With a loan guarantee of 293 million US dollars for a bauxite mine in Guinea, the German government is driving land grabbing, environmental destruction and human rights violations. As a financier and importer of bauxite, Germany must ensure that its appetite for raw materials does not harm local people.
News

and updates
Call to action
To: To the German Federal Minister for Economic Affairs, Robert Habeck
"Do not provide loan guarantees for projects that violate human rights and environmental standards."
As a member of the World Bank, the German government is party to decisions regarding the financing of the Sangaredi bauxite mine operated by the Rio Tinto and Alcoa mining companies in Guinea. In view of the mine's disastrous social and ecological impact, we are calling on the German government to rethink its position and take action.
Germany imports 2.5 million tons of bauxite – the raw material for aluminum production – per year. 93.1 percent of this total comes from Guinea. Human rights are taking the back seat to help secure raw materials for German industry.
The bauxite mine is robbing more than 500 people around the village of Hamdallaye of their livelihoods. Once their ornate houses stood in the midst of old trees. But the inhabitants were forcibly relocated, their fields destroyed and their connections to the local road network and water resources were cut off by the mine.
New Hamdallaye is located in an unrestored, exhausted part of the bauxite mine, an area that has not been prepared for settlement and is completely unsuitable for agriculture. People are being driven from their homes in the middle of the Covid crisis and face likely destitution by being forced to make a new start on inhospitable land.
The residents of twelve villages have filed complaints with the World Bank against the expansion of the Sangaredi mine. The villages were relocated despite the violation of national laws and ongoing mediation. Guinea is not an isolated case: Time and again, mining companies make themselves guilty of violating human rights and destroying the environment for the extraction of raw materials.
Please sign the joint petition of FIAN, Powershift (in German) and Rainforest Rescue. The number of signatures represents the total collected.
Back­ground
The only economically significant raw material for aluminum production is bauxite. Since there are no relevant deposits in Germany, bauxite and refined aluminum products are imported from abroad. The main bauxite producers are Australia, China, Guinea, Brazil, India, Jamaica, Indonesia and the Russian Federation.
Table 1: Bauxite and aluminum product imports to Germany and their origins (2019)
Raw material
Import volume (t)
Origin
Share in %
Bauxite
2,549,685
Guinea
93.1
Aluminum oxide
823,580
Jamaica
58.9
Aluminum hydroxide
197,942
Spain 1
Ireland 1
40
21
Unalloyed raw aluminum
723,511
Russian Federation
Netherlands 1
Iceland 1
36.7
15.4
10.9
Alloyed raw aluminum
1,721,291
Netherlands 1
Norway 1
United Arab Emirates 1
United Kingdom 1
14.6
12.9
12.2
10.0
1 Processors only, not producing countries
Source: Federal Institute for Geosciences and Natural Resources (BGR), Nov. 2020: Deutschland ‒ Rohstoffsituation 2019
Table 2: Applications of aluminum in Germany 2019
| | |
| --- | --- |
| Area of application:  | Share in % |
| Transportation sector with vehicle manufacturing | 47 |
| Construction | 14 |
| Packaging industry | 12 |
| Electrical engineering | 7 |
| Mechanical engineering | 7 |
| Iron and steel industry | 5 |
| Household goods, office equipment, home furnishings and leisure products | 8 |
Source: Federal Institute for Geosciences and Natural Resources (BGR), Nov. 2020: Deutschland ‒ Rohstoffsituation 2019
Aluminum producers and processors in Germany in 2019
- Trimet Aluminium SE, headquartered in Essen, with six plants producing 390,000 tons of primary and 230,000 tons of secondary aluminum
- Norsk Hydro ASA, a Norwegian group that operates the Rheinwerk aluminum smelter in Neuss (capacity 235,000 t/a of primary aluminum, actual production 155,000 t) and numerous other processing plants in Dormagen, Leipzig (capacity 100,000 t/a), Hamburg (rolling mill and foundry with a capacity of 200,000 t/a)
- Walz- und Schmelzwerk Aluminium Norf GmbH (Alunorf) (1.5 million t/a of rolled products) near Neuss is owned in equal shares by Novelis Deutschland GmbH and Hydro Aluminium Rolled Products 
- Novelis Inc., which is part of the Aditya Birla Group, a multinational conglomerate headquartered in Mumbai, India, operates the world's largest aluminum recycling plant in Nachterstedt, capable of processing 400,000 t/a of scrap aluminum 
Source: Federal Institute for Geosciences and Natural Resources (BGR), Nov. 2020: Deutschland ‒ Rohstoffsituation 2019 
Sangaredi, Guinea: StopptUnFaireKredite
In 2016, Compagnie des Bauxites de Guinée (CBG), a public/private mining company, received $823 million from international lenders to expand its bauxite mine near the town of Sangaredi. The land of 13 villages has fallen victim to this expansion. CBG had already claimed large tracts of community farmland. The residents were not or only insufficiently compensated. Bauxite mining operations have polluted vital bodies of water or resulted in them drying up. They can now no longer be used as drinking water, impacting the self-sufficiency of numerous communities. Women now have to travel longer distances to obtain water for their families. They have not been compensated for this.
In February 2019, the 13 communities filed a complaint with the World Bank. While the promised mediation had to be postponed due to the Covid pandemic, CBG created facts on the ground and forcibly relocated the village of Hamdallaye in 2020. The new village was built on a spoil dump where no farming is possible. Only after pressure from NGOs did CBG install public water taps in the new village.
The German government is securing a USD 293 million loan from ING-Diba Bank for the expansion of the bauxite mine via an untied loan guarantee. The World Bank is also supporting the mine expansion with a US$200 million loan from its subsidiary bank IFC. The funds were approved even though impact assessments of the mine expansion had underscored the high environmental and social risks.
Some of the bauxite is exported to Germany and used mainly for the production of aluminum for cars and packaging.
#StopptUnfaireKredite
Please sign the petition by PowerShift and FIAN to the German Federal Minister for Economic Affairs and Energy, Peter Altmaier here (in German)
Further information:
The complaint to the World Bank
In German:
Hier können Sie die aktuelle Petition von PowerShift und FIAN an Wirtschaftsminister Altmaier unterschreiben
Petition an Bundesregierung: Außenwirtschaftsförderung muss Menschenrechte achten
Deutsche Bundesregierung darf sich nicht mit Kredit-Garantien an Vertreibung beteiligen
Ein Artikel über das Thema aus unserem FoodFirst Magazin 1/2020
Factsheet Powershift: Landraub für deutsche Autos
Letter
To: To the German Federal Minister for Economic Affairs, Robert Habeck
Dear Minister Habeck,
In view of the blatant abuses related to the expansion of the Sangaredi bauxite mine in Guinea and the role of the German government, we call upon you to:
1. Ensure adequate compensation for the affected population and their access to the road network and water resources.
2. Ensure that the environment is restored and that expropriated farmers are provided with arable land as compensation.
3. Exclude companies that violate human rights from government funding. This must also be enshrined in the supply chain bill currently being debated.
4. Ensure that German government loan guarantees do not lead to human rights abuses. To achieve this, untied loan guarantees must become more transparent, compliance with due diligence requirements made mandatory and abuses prosecuted.
Yours faithfully,
Topic
Definition: What is aluminum?
Aluminum is the third most common chemical element (symbol AL) and the most common metal in the earth's crust, where it occurs in the form of oxides and aluminum silicates. The metal aluminum is refined from bauxite. The most important producing countries and their respective shares of worldwide production are Australia (29%), China (19%), Guinea (18%), Brazil (10%), India (7%), Jamaica (3%) and Indonesia (3%). In Europe, Greece is the only country to have significant bauxite deposits.
The silvery-white metal is particularly light and easy to shape. Aluminum alloys are very strong. The metal reacts with air and water and forms a thin layer of oxide that protects it against further corrosion.
What is aluminum used for?
In Germany, for example, the automotive industry is the biggest consumer, accounting for 47% of the aluminum used in 2019. Other uses of aluminum are construction (14%) and packaging (12%). Electrical engineering and mechanical engineering follow with 7% each, the iron and steel industry with 5%, while use in household goods, office equipment, furnishings and leisure products account for 8% (source: German Federal Institute for Geosciences and Natural Resources (BGR), Nov. 2020: Deutschland ‒ Rohstoffsituation 2019).
Conventional cars manufactured in Europe contain an average of 180 kg of the light metal. Considerably more aluminum is used for SUVs and luxury cars – in particular by Jaguar, Land Rover and Porsche – as well as in electric vehicles. The Audi E-Tron contains no less than 800 kg of aluminum (source: European Aluminium 2019: Aluminum Content in European Passenger Cars).
Many single-use products such as coffee pods, beverage cans and yoghurt lids are made of aluminum. Aluminum salts are also used in antiperspirants and medications and to regulate the consistency of creams.
Demand for aluminum has risen sharply in recent years, with devastating consequences.
What is the environmental impact of aluminum?
While aluminum is the most common metal in the earth's crust, it occurs only in bound form. The mining, processing and refining of bauxite into raw aluminum is energy-intensive and has a major impact on the environment. By contrast, recycling aluminum uses only 5% of the energy required to extract raw aluminum from ore.
Rainforest destruction for bauxite mining
A significant share of bauxite deposits can be found in the tropics. In order to get to the thin rock layer under the earth's surface, huge areas of forest are cleared and soil removed in Australia, Indonesia, Brazil and Guinea. In Porto Trombetas, Brazil, an area the size of 250 football fields is cleared every year for bauxite mining.
Toxic waste products
Aluminum is extracted from bauxite in a complex chemical process. Producing one ton of raw aluminum results in up to four tons of toxic waste, which has a distinctive red color due to the iron-rich compounds it contains. This so-called red mud is stored in huge, open tailing ponds. Leaks and dam breaks are a frequent occurrence, often burying whole villages under the highly corrosive sludge. Toxic heavy metals such as lead, cadmium and mercury transform living rivers into toxic dead zones. However, even without major accidents, environmental toxins are released into the air, soil and water: People living around mines and aluminum factories complain of contaminated drinking water, skin diseases, and fish die-offs.
High energy consumption during refining
Producing one ton of aluminum requires 15 MWh of electricity – as much as a two-person household uses in five years. Because of its energy-intensive nature, aluminum production is only economically viable if a lot of very cheap electricity is available. Gigantic hydropower plants have been built in Brazil and elsewhere for this purpose, flooding the rainforest and the land of indigenous communities.
The negative effects of aluminum are not only felt in the producing countries, however. Aluminum in everyday products is a health hazard: Salts dissolved from aluminum foil, as well as the aluminum components in deodorants and medications, can accumulate in our bodies and are suspected of causing cancer and Alzheimer's disease.
How can you address the problem?
Aluminum is everywhere in our day-to-day life. Production increased by almost 60% between 2009 and 2016 to 58.3 million metric tons per year – not least for everyday products. And it is here that great potential exists for savings.
Think twice about packaging: Takeaway meals in aluminum trays, granola bars in multilayer wrappers – snack food is often packaged in aluminum. It only takes a bit of planning to prepare snacks for school or the office at home. You can reduce packaging waste dramatically by using sandwich boxes instead of aluminum foil and drinks in reusable bottles (with home-made iced tea, for example) instead of beverage cans.
Avoid coffee pod waste: One kilogram of coffee in pods can cost up to EUR 80 (USD 95 or GBP 70), making it hard on your wallet as well as the environment. Up to three grams of packaging are needed for six to seven grams of coffee. French presses and stainless steel stovetop espresso makers are economical and environmentally friendly alternatives.
Get the longest possible life out of aluminum products: Aluminum can be found in numerous household items such as computer cases, aluminum shelving and carpet strips. Investing in high-quality products and using them for as long as possible can reduce your aluminum footprint.
Recycle aluminum: It's not always possible to avoid aluminum packaging altogether. However, the raw materials in such packaging can, in theory, be reused indefinitely – provided we dispose of it with care to ensure that it is recycled.
Hit the road without hundreds of kilos of aluminum: The up to 150 kilograms of aluminum that go into a new car are a pretty solid argument in favor of getting around by bicycle or using public transportation.
Avoid aluminum to protect your health: Aluminum-free natural cosmetics and deodorants without aluminum salts (e.g. based on soda) are a healthy choice. Pharmacists can often recommend alternatives to medications containing aluminum such as antacids. Do not store acidic foods in aluminum foil under any circumstances: harmful aluminum salts could pass into the food.
Share and spread the word: Very few people are aware of the connection between coffee pods and rainforest destruction. Please share this information widely to help raise awareness of the dangers of aluminum. If demand for aluminum products falls, companies can be persuaded to rethink. Online petitions are an effective tool for change as well.
News

and updates