Malaysian federal government will look into land reclamation controversy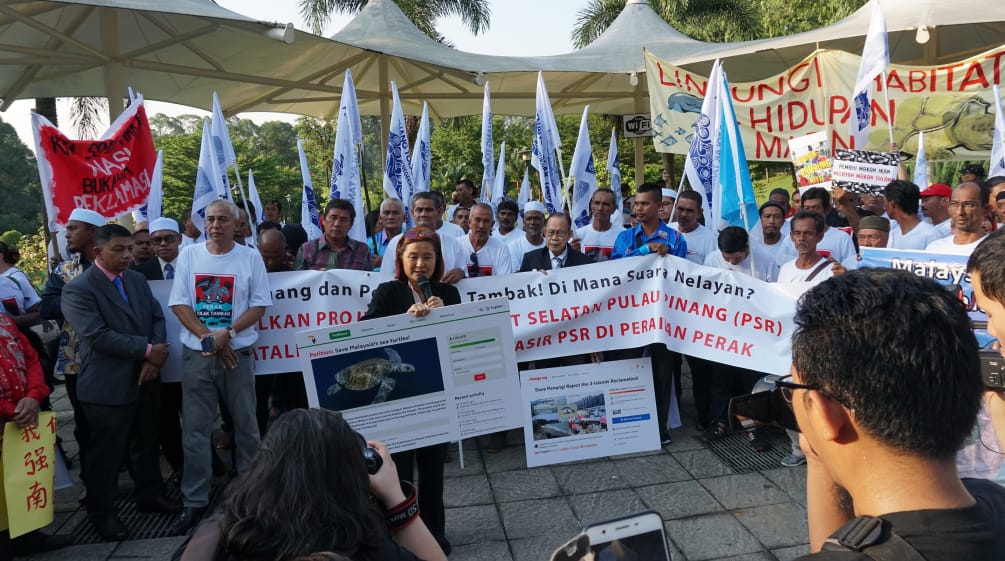 Aug 3, 2019
For the first time in history, around 200 Malaysian fishermen – 120 from Penang and 80 from Perak – marched to Parliament to air their grievances on the 11th of July. Representatives of NGOs from Penang and Taiping joined the march.
"Don't pour sand into our rice bowl" said the fishermen during their march to Parliament on 11th of July, on which they chanted "Tolak Tambak" (reject reclamation) in a bid to garner attention to their demands from ministers and MPs.
Ten memoranda were submitted to the Prime Minister and meetings were held with the Minister of Housing and Local Government and the Minister of Agriculture.
Both ministers were impressed by the total number of signatures in support of the campaign: Rainforest Rescue hosted an international petition "Save Malaysia's Sea Turtles", supported by 132,000 people, while change.org hosted a national "Save Penang! Reject the 3-Islands Reclamation!" signed by 44,000.
In a session of Parliament on the 16th of July, the opposition Kepala Batas MP raised the question of reclamation and its effects on fisheries. The Minister of Agriculture's detailed reply illustrated the serious dilemma posed to fisheries. Noting that the Penang South Reclamation has become an issue of great public concern, the Pakatan Harapan MP (Permatang Pauh) raised the possibility of doing away with it altogether by looking into an alternative solution to the problem. 
"We have succeeded in raising this state issue to the Malaysian national level, thus improving our chances of lobbying for a desirable outcome", said Khoo Salma of the Penang Forum. Local environmental activists greatly appreciate the powerful platform and support that Rainforest Rescue provided.
Thanks to everyone who signed our petition! We will be keeping it online until the land reclamation project is finally off the table. You can still sign it here.
Press coverage
The Straits Times (Singapore)
Hundreds of Malaysian fishermen protest over huge Penang reclamation plan
The Malaysian Insight [above video]
Fishermen opposed to Penang reclamation march to Parliament
The Star, Malaysia [video]
Dr M: Govt to look into fishermen's grouses over Penang reclamation project (video)
Malay Mail
Scores of fishermen protest Penang artificial islands project outside Parliament

Malaysiakini
'Don't pour sand into our rice bowl' - fisherfolk march to Parliament
New Straits Times, Malaysia
PM: Govt to look into fishermen's concerns on PSR project
The Edge, Malaysia
Govt to look into claims on PSR project — Mahathir
Free Malaysia Today
Hundreds protest outside Parliament against Penang reclamation project
Astro Awani
Tambak laut Pulau Pinang: PM kaji bantahan nelayan
Sinar Harian
Projek tambak laut: PM kaji bantahan nelayan
Utusan Malaysia
Protes nelayan : Kerajaan akan ambil tindakan
Harakah Daily
Suara rakyat bantah projek PSR bergema di Parlimen
Utusan Malaysia
Laungan 'Penang Tolak Tambak' gegar Parlimen
Malaysiakini
Periuk berpasir, ikan masin diarak ke parlimen
Anilnetto.com
It's not about 'compensation': Creative, colourful fishermen's protest has changed the dynamics
Anilnetto.com
250 fishermen march to Parliament in 'PenangTolakTambak!' protest
Aliran
Fishermen's march: Something deeper, more corrosive lurks out there
China Press
[200 fishermen march to Parliament urging government to cancel PSR]
Sin Chew
[Protest against the Penang South Reclamation and 200 fishermen's parliamentary march]
Kwong Wah 
I believe that Tun Mahathir does not agree with Penang South Reclamation. The artificial islands only benefit foreigners.