The clock is ticking for Tasmania's ancient forests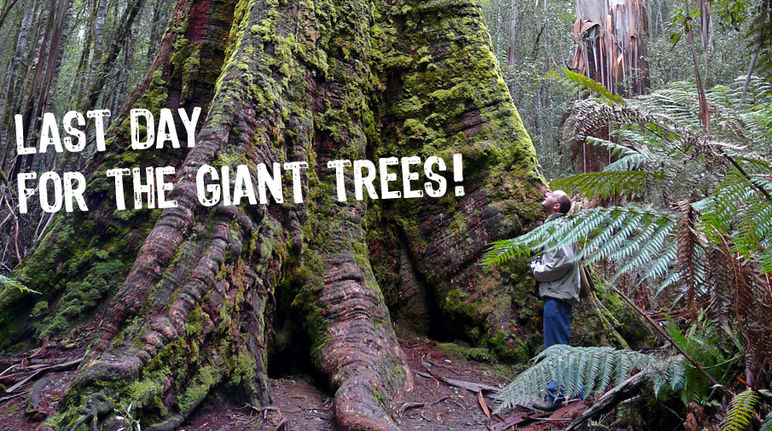 132,641 supporters
End of campaign: Jun 24, 2014
Tasmania's forests are home to some of the tallest trees in the world. With its unique landscape and archaeological sites, nearly a quarter of the island has been put under UNESCO protection, yet the government wants to strip 74,000 hectares of that land of its world heritage status. Take a stand against Prime Minister Abbott's plans.
News

and updates
Call to action
To: Australian Prime Minister Tony Abbott, Minister for Environment Greg Hunt
"Stop the new Australian government's plans to delist 74,000 hectares of the UNESCO World Heritage Site in Tasmania."
Tasmania's alpine mountain ranges, karst landscapes, temperate rainforests and wetlands were declared a World Heritage Site over thirty years ago. Its giant eucalyptus trees reach for the sky, and the region is home to endemic and endangered species such as the Tasmanian devil. Archaeological sites dating back 30,000 years – testimony to the earliest human settlements in the region – can also be found in the Tasmanian Wilderness World Heritage Area.
In June 2013, the previous Australian government extended the UNESCO World Heritage Site by 170,000 hectares to a total of 1.58 million hectares, or 6,100 square miles.
Prime Minister Tony Abbott wants to put an end to that, however. Liberty Voice reports that during a dinner for forestry workers, Abbot declared that too much of Australia is "locked up" in protective areas. He sees "green ideology" at work and asserted that "the environment is made for man".
The Prime Minister called for 74,000 hectares of the World Heritage Site to be delisted as soon as possible. In his view, this would involve "minor boundary modifications" affecting areas that had been logged previously and thus were not worthy of protection. Conservationists are alarmed and disagree strongly, pointing out that 90 percent of the area is ecologically pristine primary forest.
On February 1, the government submitted an application to the World Heritage Committee. If the application is accepted, not only would 18 of 58 giant eucalyptus trees lose their protected status, but entire valleys and forests as well.
The UNESCO World Heritage Committee will be meeting in Doha, Qatar to decide the forest's fate. Australian environmental organizations are doing everything possible to stop the government's plans.
Please support their struggle with your signature.
Back­ground
Tasmania's majestic landscapes range from rugged coastlines to lush temperate rainforests and wetlands to craggy mountains. Ice ages have ground valleys and gorges through its towering alpine ranges, while karst regions are riddled with deep caves. The vast forests are home to numerous species of eucalyptus, including over 100 giant eucalyptus trees that are more than 80 meters tall, some of the mightiest broad-leafed trees in the world.
Tasmania's millennia of separation from the Australian mainland have given rise to numerous endemic species, many of which are on the Red List and in danger of extinction. These include dragonflies, vultures and crayfish, as well as the Tasmanian devil.
Archaeological sites document human settlements dating back 30,000 to 40,000 years. Tasmania's indigenous population lived in complete isolation for around 500 generations – longer than any other people. 
In 1982, UNESCO declared around 20 percent of Tasmania to be a World Heritage Site. Globally, the list includes 981 natural and cultural sites, and the Tasmanian Wildlife Heritage Area is one of only 29 that belong to both categories. 
In many instances, World Heritage Site status has protected the environment from harmful activities. In 1983, the construction of dams on two rivers was prevented, and logging was stopped in two valleys in 1988 and 1989. UNESCO has repeatedly pushed to extend the World Heritage Site, in particular because it considered some of the eucalyptus forests to be threatened.
In several stages, the World Heritage Site was expanded to no less than 1.58 million hectares, including 170,000 hectares that were added as recently as 2013. Of those, 46,000 hectares had already been protected as a national park, and the remaining area fell under the Tasmanian Forest Agreement, a peace treaty of sorts between environmentalists and the forest industry.
Thanks to the 2013 expansion, a 180 km corridor of eucalyptus forests is now under UNESCO protection. It also includes 58 of the tallest trees, of which more than 100 are growing in the park. 
The new Australian government, however, wants to strip an area of 74,000 hectares of its protection, asserting that it is no longer primary forest – and in some cases plantation land – and thus not worthy of a special status.
Environmentalists like Bob Brown disagree. He notes that only five to six percent of the 74,000 hectares had been logged over the past 50 years, and 90 percent are still pristine. Even plantation areas covering a total of 218 hectares should not be delisted.
The government submitted an application to the UNESCO World Heritage Committee, and a decision will be reached at the committee's meeting in Qatar from the 15th to the 25th of June.
Letter
To: Australian Prime Minister Tony Abbott, Minister for Environment Greg Hunt
Dear Mr. Abbott, dear Mr. Hunt,
Your government wants to reduce the Tasmanian Wilderness World Heritage Area by 74,000 hectares, removing those areas from UNESCO World Heritage protection. This move would endanger Tasmania's unique eucalyptus forests, home to some of the tallest broad-leafed trees in the world.
Considering that the World Heritage Site was just expanded in June 2013 by the previous government, we are deeply concerned by your decision. Your plan to delist recently protected areas is an example of backward and arbitrary environmental policy that is isolating Australia internationally and seriously impacting your country's reputation.
Please reconsider this damaging policy and abandon your plan to remove large tracts of land from UNESCO protection.
Sincerely,
News

and updates